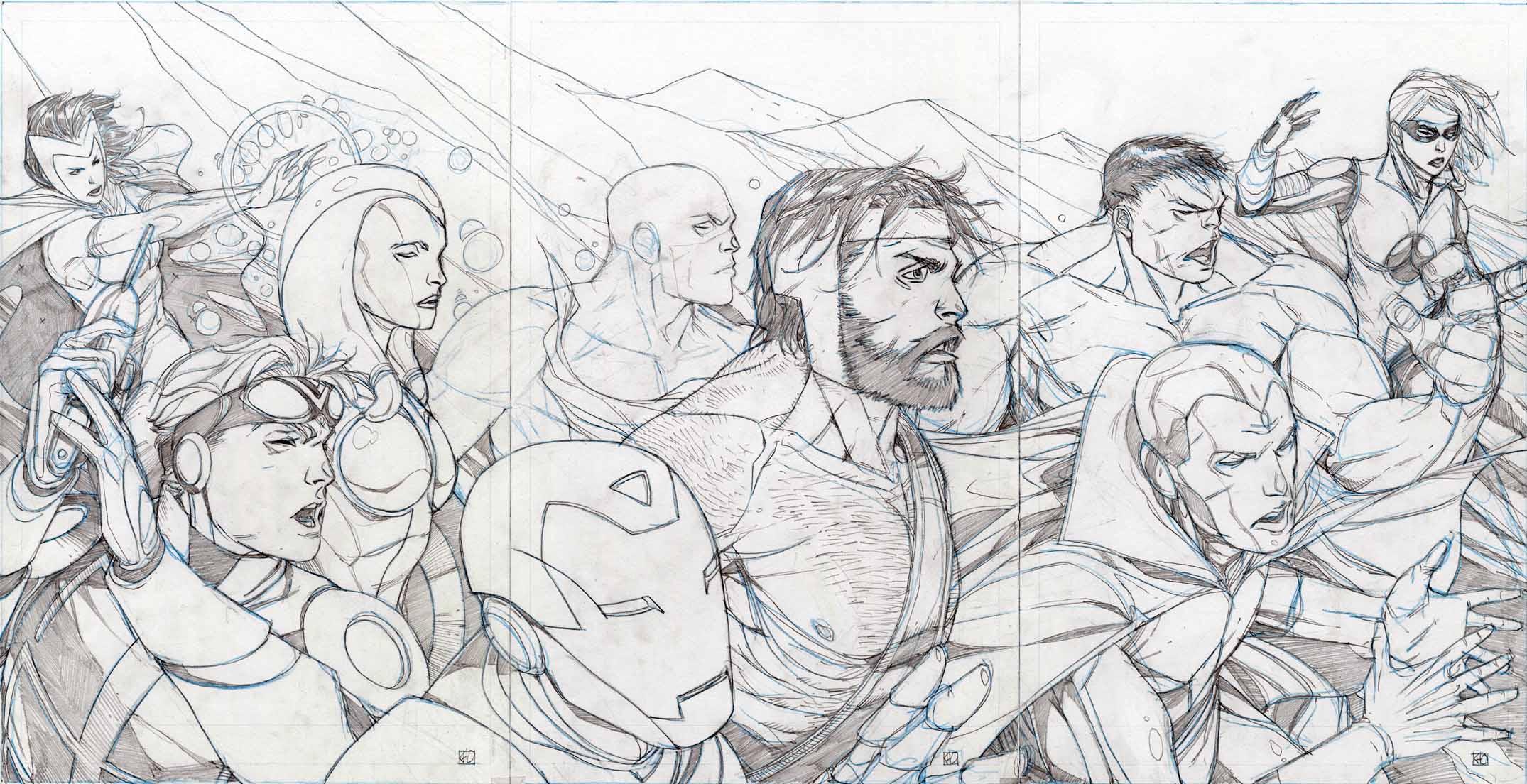 Joe Q revealed these pencils of a 'secret project' on
Cup of Joe
(click to enlarge). It looks like it will become a triptych cover for a team book. Thing is, one of the characters on it is J, who we know is going to be a member of the
Dan Slott-penned
Mighty Avengers. Slott also told us that it would have some really classic Avengers in it, one of them a founder, plus at least one character from the Initiative. I see the Scarlet Witch, Vision, Iron Man, the Hulk and Hercules, all classic Avengers characters. Its only pencils, so it could possibly be War Machine instead of Iron Man. Then there's a bald guy who could possibly be Luke Cage, but I don't see Bendis giving him to Slott, so its probably Ares. Ares and Herc on the same team? That would be...interesting. I think the last two are G. I. Ant-Man (Eric O'Grady) and Stature. You can't just have one person with pym particles on an Avengers team, you gotta have two so they can do the smallest of all team-ups. Vision, Stature and the Witch on the same team? That would also be...interesting.
If this is the lineup of MA, I'm gonna seriously consider getting it. Fortunately its going on a break in December, as I'm buying too much stuff already that month. Dan Slott starts on it in January, so I have a bit longer to decide.
I'll have reviews of Uncanny, X-factor and Solomon Kane up later today, then Togs of War tomorrow, and a new monthly feature on DotA called Under Siege on Monday.